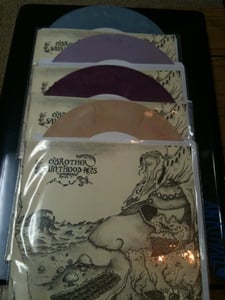 $

4.99 - On Sale
This is a limited edition 7" vinyl split between O'Brother and Sainthood Reps (Derrick Sherman of Brand New).
It is a mixed color vinyl, meaning each disc will be unique. Also the artwork was done by Aaron Wamack of O'Brother. The artwork/album jacket is screen printed and will be foldable which will allow you to display the artwork if desired.
The split includes the following songs:
O'Brother - Lay Down
Sainthood Reps - Condor
Orders are now being shipped. Contact me with any questions, but feel free to place your orders now to guarantee a record.
If you live internationally, contact me directly for shipping price.
Theambitiousguest@gmail.com